8 STEP GUIDE TO A SUCCESSFUL RENOVATION
Quite frankly, renovations are a bitch.
From figuring out the design, to budgeting for your project, to securing the right contractor, it's an intense life experience that will test your patience in humanity and crush any dreamy nostalgia you may have had for home rehabs.
If you think I'm being dramatic, then you must be one of the lucky ones. One of the unicorns who completed a reno project without strife, who was saavy enough to do everything correctly, hired the right people, and those people miraculously completed your project on time and to your standards.
Nate and I were the lucky ones once.
That was back in 2014. At the time we had just purchased our 1910 fixer-upper rowhome in Canton, Baltimore. We were prepared, we had wedding funds, we had time to carefully interview contractors, and we spared ourselves from the mess by living with my parents for 3 months.
Our experience, while challenging in it's own way, was ultimately a positive one. Our contractor, Jeff, rocked. He was a former lawyer turned contractor who bought a Baltimore rowhome for $1 in the 80's and got hooked on rehabbing after that. While he had a quirky personality, he was efficient, had experts in his team, and truly valued the old bones of our home.
We loved Jeff so much that we tried to hire him again in 2018 to renovate our kitchen; but we were too late.
Jeff wrote back saying he was now retired and unfortunately wouldn't be able to tackle our project. Major bummer. But we congratulated him on his new journey and hit the drawing board.
But, truth was, we were too late in more ways than one. We needed to find a new contractor, STAT. Why? Because due to a series of events which I wrote about here, Nate and I had already demoed our kitchen. Yep, you heard me! We had a hole in our house with no running water and no one to help us put it back together.
This led us to make a series of mistakes that we wouldn't wish on our worst enemy.
Long story short: Because of our desperation to secure someone asap, we put ourselves in the position of getting scammed. And get scammed we did. However, in trying to spin a bad situation into a good one, there's a A LOT we learned, on what NOT to do.
So, to prevent others from making the mistakes we plunged into, below is an 8 step guide on how to select a good contractor and hopefully not get burned like we did. Hope it helps as you navigate your home's transformation!
Xoxo,
Giulietta
Banner photo by: Sean Scheidt
8 STEP GUIDE TO A SUCCESSFUL RENOVATION
1. DETERMINE YOUR MAX RENOVATION BUDGET.
This step is 100% necessary unless you want to go bankrupt. It's a tough conversation to have with yourself and/or your partner, but it's absolutely needed to understand what's at stake financially and how to attain your renovation.
Take a hard look at all your collective incomes & savings. Where can you pull funding from? How much can you afford to lose? Be practical. Remember to spare a few $K for unexpected emergencies, which will undoubtedly appear in demos or life in general. There's always a pipe that's corroded, wiring that's hazardous or mold that's discovered when removing walls or flooring.
This step will help you determine whether you have enough to proceed with your project as is, whether you need to seek financing from a bank or investor, or whether you can afford to hire a contractor at all.
2. FILTER THROUGH THE "WANTS" & "NEEDS" OF YOUR PROJECT. PRIORITIZE THEM ON A SCALE OF 1-10.
There's a big difference between "wants" and "needs." I know it's unglamorous, but remember to prioritize the NEEDS. A beautiful space can be a garbage space if it's not practical, functional, or contributes to your overall comfort level.
This step will reveal where your money should be spent in the immediate term. It will also help define where you'll need to get thrifty. Maybe you don't need a contractor to do all the work & you can do some labor yourself; maybe it's saving a decor purchase for later; or maybe it's getting crafty with certain design elements.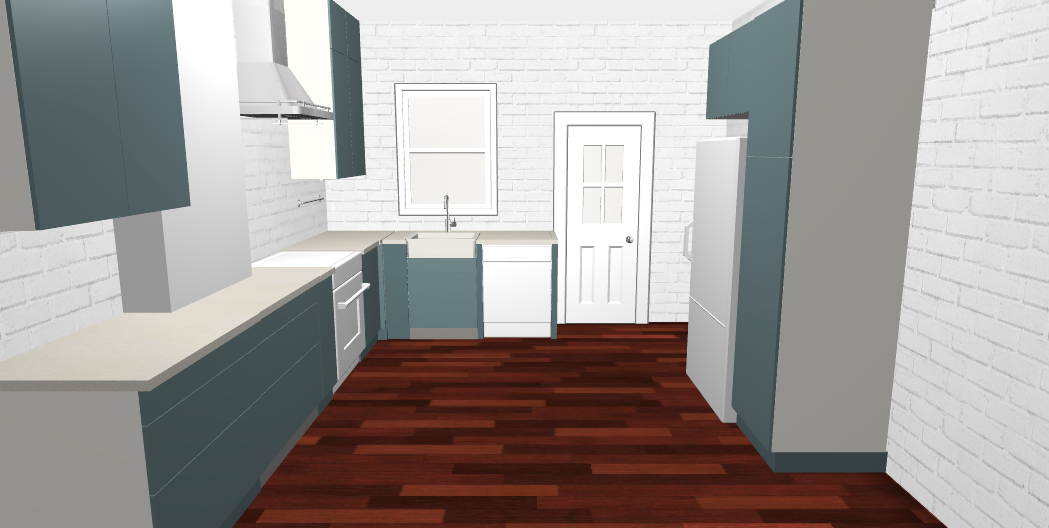 3. GET YOUR DESIGN IDEAS IN PLACE. MEASURE. RENDER.
These days, a lot of home improvement stores, such as Ikea, Home Depot, Lowes, etc. have their own, free online or in-house design programs you can utilize to 'sketch out' your space.
We used Ikea's Kitchen Planner to make a rendering of our kitchen (see image above) and found their employees to be incredibly helpful when we ran into design troubles. NOTE: Remember to measure things as accurately as possible. The tiniest mis-measure can unfortunately throw off your whole design & could cost you $!
Renderings are an essential tool to convey your design ideas to your contractor and prevent mistakes from happening.
4. USE YOUR RENDERING TO PRICE OUT MATERIALS AS ACCURATELY AS POSSIBLE.
Fun fact: the kitchen planner tools mentioned in Step #3, will automatically calculate material costs based upon your rendering! Pretty awesome, right?! But don't forget that there might be some external fixtures such as: a lamp, wallpaper or door fronts from a different retailer you want. Make sure to factor those costs in too.
Knowing your total material fees will help you determine how much money you can allocate towards a contractor & construction.
Keep in mind: the above kitchen planner programs don't usually calculate construction materials such as: drywall, insulation, nails, wood, etc. You can find pricing for those by researching online, however if this task is too daunting for you, it's ok:
A good contractor will help you price out construction materials and factor them in their estimate. Keep in mind that this route may incur a 10-20%+ mark up from the contractor [Angie's List].
Photo by: Kate Grewal
5. GIVE YOURSELF ENOUGH TIME TO PROPERLY RESEARCH & SECURE A GOOD CONTRACTOR. INTERVIEW 3+ PEOPLE.
This is where Nate and I initially failed with our kitchen renovation. Our excitement / haste to get our kitchen demoed ultimately drove us to make desperate, rushed decisions. We neglected to thoroughly research and interview more than 2 contractors. Instead we settled for someone that was superficially recommended, was supposedly available and agreed to all our needs.
We later discovered his reputation was essentially fabricated by ONE individual (probably a family member, friend or co-worker) who gave him 5 star reviews repeatedly on FB.
6. OBTAIN A CONTRACT. GET IT SIGNED.
I can't stress enough how important this step is. We learned the hard way that there are plenty of contractors out there who'd like nothing more than to scam you. This step WILL save you the headache we went through.
Scammers will refuse to sign agreements, get permits or will insist that an itemized estimate is good enough. This is all BS! If things do change (which happens all the time), contracts can be amended and new timelines can be set. Stay the heck away from the people who don't want contracts or permits!
For an excellent list on what to include in a remodeling contract, I highly recommend checking out this guide from Angie's List.
Photo by: Kate Grewal
7. KEEP YOUR CONTRACTOR ACCOUNTABLE THROUGH THE DURATION OF YOUR PROJECT.
This is pretty self explanatory.
You have a contact with their signature. Don't be afraid to remind them of it if things start going awry.
Photo by: Kate Grewal
8. YOU MADE IT! YOUR RENO IS COMPLETE AND ISN'T YOUR HOME JUST BEAUTIFUL?! LET'S POP OPEN THE BUBBLY & CELEBRATE!!!!
Click here to see Nate's and my kitchen renovation after we fired our initial contractor & then hired a legit contractor who completed our project on time with quality results.
Giulietta Pinna
Prop & Set Stylist + Creative Event Designer